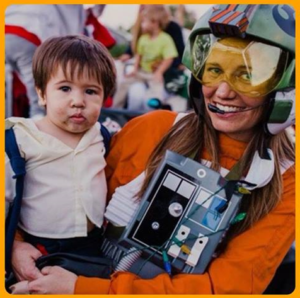 Calling all Rebels!
Please join me in congratulating Ashley Sutherland (SutasKawes) on being chosen as the Ra Kura Rebel of the Month for July!
Ashley is a dedicated, reliable and regular trooper, always out putting smiles on faces in her awesome pilot costume and representing Phoenix Squadron! She has also just submitted her amazing Sabine costume from Rebels for approval and we are excited to see her out in that spreading rebellion and graffiti very soon!
Ashley is also a Level 28 Padawan in the base Troop Tracker and is FAST approaching the next milestone of Knight!!
Thank you for everything you do Ashley and keep up the great work!
– David & the Ra Kura Command Staff